Waterbeds in South Wales
George Street Waterbeds
Inside George Street Furnishers
19-24 George Street, Newport,
South Wales, NP20 1EN
Tel: 01633 211448 - Fax: 01633 841083
HOME

Swansea Waterbeds
is now - World of Waterbeds,
222 Waterloo Rd,
Penygroes, Carms, SA14 7RB
Tel: 01269 845555

WATERBED INFO
PRODUCTS
SHOP@George St
SHOP@Swansea
Welcome to the information site about purchasing a waterbed in South Wales. The website allows you to: view a large collection of waterbeds, to ask experienced staff questions or to >request information about any particular waterbed, waterbed accessories or associated water bed products and services or just find out more about George Street Waterbeds and World of Waterbeds.

Waterbeds Offer

Relief from backache, arthritis and asthma.
Recommended by doctors, surgeons & physiotherapists.
Temperature control: Warm in winter and cool in summer.
Floors do not need reinforcing to have our waterbeds.

We Offer

UK wide delivery and installation.
Expert advice and long term service contracts.
Free information pack.
A cup of coffee anytime & late opening by request.
VISIT THE COUNTRY'S LARGEST WATERBED SHOWROOMS
If you can spare the time to come and visit the George Street Waterbeds showroom at George Street Furnishers Newport, South Wales, or book a visit to the display room of World of Waterbeds located in Penygroes, you will be assured of a warm welcome in either. The coffee pot is always on and you can try out all of the waterbeds on display in a relaxed, friendly environment, with expert staff at hand to answer any of your questions. To find the George Street Waterbeds showroom in Newport, please use this online Map, or call for directions and to book an appointment with World of Waterbeds. If you don't have the time to call in, then they will always answer your waterbed question, (you don't have to be an existing customer), via the telephone. More information about both companies is available on the info page including opening times.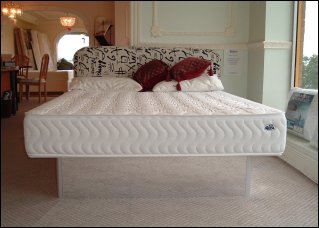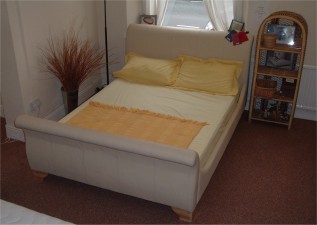 All Rights Reserved © 2000 - 2011 JCT Designs.
All images used with copyright owners permission.
Site built by JCT Designs - e-mail JCT Designs

To contact Waterbed Essentials Ltd T/A Swansea Waterbeds via email please use - sales@swanseawaterbeds.co.uk
To contact George Street Waterbeds Ltd via email please use - info@georgestreetwaterbeds.com